Irma Slams into Florida, Leaving Trail of Caribbean Destruction Featured

Hurricane Irma slammed ashore at Key West, Florida early Sunday with whirling winds and pounding rain, leaving behind a trail of destruction across fragile Caribbean islands.
Irma, now a Category 4 storm, strengthened as it moved across the warm waters of the Straits of Florida, with the National Hurricane Center saying it was packing sustained 215-kilometer-an-hour winds with higher gusts as it reached the United States.
The vast storm, expected to head north toward more populated cities along Florida's west coast, could bring devastation to parts of the peninsula state that have not seen a major hurricane in a century. Hurricane force winds extended outward 130 kilometers from the eye of the storm and tropical storm gales up to 350 kilometers.
National Hurricane Center Acting Director Ed Rappaport, left, and Senior Hurricane Specialist Richard Pasch monitor Hurricane Irma at the National Hurricane Center in Miami, Sept. 10, 2017.
Forecasters are predicting dangerous storm surges of three and four meters along Florida's Gulf of Mexico shoreline as the storm reaches Naples and Fort Myers and heads north toward the major city of Tampa. More than one million homes and businesses have already been left without power.
The storm's track has shifted more to the west, now bringing the west coast city of St. Petersburg into its sights, despite earlier predictions that the state's second biggest city, popular tourist destination Miami, on Florida's east coast along the Atlantic Ocean, would bear the brunt of the storm.
Waves crash over a seawall from Biscayne Bay as Hurricane Irma passes by, Sept. 10, 2017, in Miami.
Florida Governor Rick Scott said, "I am very concerned about the west coast. This storm surge is just deadly."
The hurricane center forecasters predicted, "The combination of a dangerous storm surge and the tide will cause normally dry areas near the coast to be flooded by rising waters moving inland from the shoreline."
Ahead of the storm reaching the U.S., Scott told Floridians Saturday evening, "We are under a state of emergency," urging them to join thousands of other residents in evacuating out of the state or to hundreds of shelters emergency workers have opened.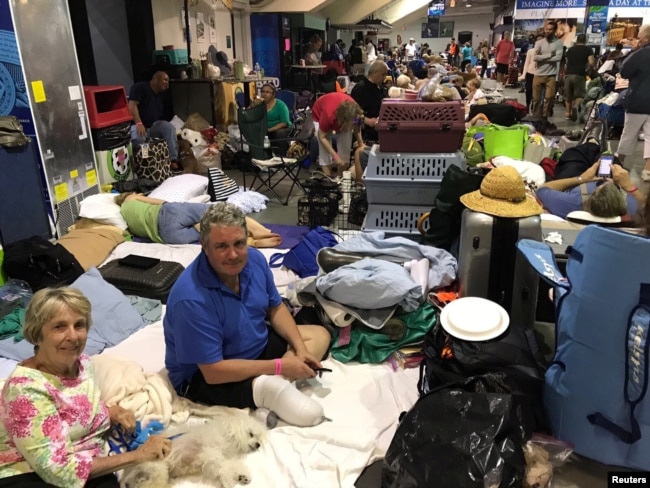 People take shelter from Hurricane Irma inside the Germain Arena in Estero, Florida, Sept. 9, 2017.
Scott also repeated his call for nurses and emergency workers to volunteer their help in the aftermath of the storm.
More than 75,000 people have heeded the governor's advice and checked into some 400 emergency shelters in the state. Some 76,000 households are already reported to be without power. Since the storm changed course and headed west, residents of the mid-sized city of Tampa have been the latest wave of people to surge into shelters after days of thinking they would only see the edges of the storm.
Tampa has not been directly hit by a hurricane in nearly a century.
Trump gets storm update
President Donald Trump, at the presidential retreat in Camp David, Maryland Sunday, received a "comprehensive update" on the status of the storm, its forecasted path and preparations for "response and recovery," according to the White House.
"The U.S. Coast Guard, FEMA and all Federal and State brave people are ready. Here comes Irma. God bless everyone!" Trump said in a Twitter message on Saturday.
Citing the expected impact of Hurricane Irma, which comes on the heels of Hurricane Harvey's destruction in Texas just two weeks ago, Trump said he would ask the Republican-controlled Congress to speed up efforts to overhaul the U.S. tax code.
Irma was a Category 5 when it first hit the island of Cuba late Friday and battered it overnight. Cuba suffered damage similar to that of other Caribbean islands, with trees uprooted and roofs torn off homes. Power and cellphone service were spotty in many regions.
Residents walk near downed power lines felled by Hurricane Irma, in Caibarien, Cuba, Sept. 9, 2017.
The Florida Keys are the first bit of U.S. soil to feel the effects of the storm. The slender barrier islands -- with their population of retirees, vacationers and refugees from mainland culture -- are under mandatory evacuation orders.
Destruction in the Caribbean
At least 25 people have died since the storm began raking over land, starting with the Caribbean island of Barbuda.
The resort island with a population of less than 2,000 is devastated. Prime Minister Gaston Browne has estimated about 95 percent of Barbuda's buildings are damaged or destroyed.
A man surveys the wreckage on his property after the passing of Hurricane Irma, in St. John's, Antigua and Barbuda, Sept. 6, 2017.
Until late Saturday, the island nation was braced for another direct impact, this one from Category 4 Hurricane Jose. By Saturday evening, Jose had skirted the island without a direct hit.
It could be up to six months before all power is restored on cash-strapped Puerto Rico, a U.S. commonwealth, where Irma knocked out power to more than one million people.
The U.S. Defense Department has deployed three Navy ships, about two dozen aircraft and hundreds of Marines to help with recovery efforts in Puerto Rico and the U.S. Virgin Islands.
back to top