Take A Memorable New Year Holiday This Weekend

As the clock ticks down to midnight on Saturday night, crowds will cheer in the major city squares around the world. A number of Turkish cities are ready to host guests for the new year with two-day programs
Where do you want to be when the clock strikes midnight on New Year's Eve? In Istanbul, nearly all hotels and restaurants are ready to host guests with a festive dinner and entertainment programs. Families or couples may want to leave the city and combine the New Year's celebration as a weekend getaway holiday. To enjoy a memorable New Year's celebration, here are the top picks from Turkey, each suitable for a different holiday experience.
Embrace nature in the snow
Turkey's Western Black Sea region offers old-style living and the traditional Turkish lifestyle is still visible. A two-day tour including the UNESCO heritage site in the town of Safranbolu can be both a close and affordable choice for Istanbul residents.
The tour options available from travel agencies (you may visit Jolly Tour's website) also cover the New Year's gala event. The tour starting from Amasra and heading to the Bakacak Hill with a scenic view continues in Safranbolu.
There, travelers have the chance to see Kıranköy, an old Greek village with distinct-looking mansions and the Great Mosque. In the Semerciler neighborhood you may find the masters of traditional crafts. Other places that are visited during the tour are historic bazaars like Manifaturacılar, Bakırcılar and Demirciler, the 122-year-old Kaymakamlar Hall, Akçasu Canyon, İzzet Mehmet Paşa Mosque, the mysterious 370-year-old Cinci Inn, the 353-year-old Köprülü Mehmet Paşa Mosque, Yemeniciler Ottoman Bazaar and Yörek Village, which includes the most well-protected examples of civil architecture.
A land of cultural heritage
If you wish to welcome the new year with a cultural tour, then take your car and set off to Edirne. In this western city boasting numerous sites of cultural heritage, you can discover Selimiye Mosque, which is one of Mimar Sinan's most important masterpieces and was added to the UNESCO World Heritage List in 2011, as well as the Selimiye Complex and Selimiye Bazaar, Semiz Ali Pasha Bazaar, Closed Bazaar (Bedesten), Rüstem Paşa Caravansary, Muradiye Mosque, Üç Şerefeli Mosque and the historical Kırkpınar Square.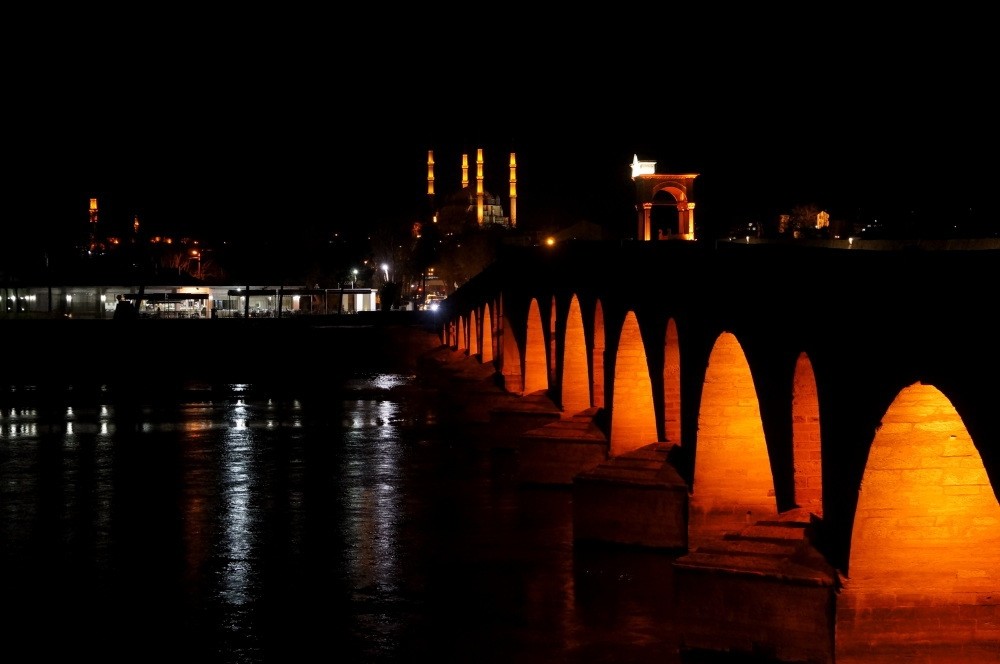 You must definitely try the city's ever-famous almond paste, almond cookies, Kavala cookies and halva (deva-i misk) at Ezmecioğlu Tatlıcısı, which has been serving customers for nearly 100 years. You may also consider trying the local feta cheese, fruit soaps and famous bridal brooms with mirrors, an old tradition of the city. The travel group Gezgin Damaklar offers regular trips to Edirne.
The tranquilizing Black Sea
This tour is a good opportunity to discover religions, languages, tastes, history and the nature of the Black Sea Region. The available tours generally include one night in Batum and two nights in Rize's Ayder Highland. Travelers will have a cultural and fun experience with a chance to see the Gonio-Apsaros Fortress, Gonio Bridge, Batum Botanic Garden and Storm Valley.
A foodie New Year
How about spending your weekend in Gaziantep experiencing the unique tastes of the city? The local dishes of Gaziantep are many and varied, which is a result of its historical and geographical position. The city's cuisine includes a variety of meats, vegetables and baked goods from other regions of Turkey which were brought to the city by migrants, as well as many foods that come from Syria. You can have your lunch at Kebapçı Halil Usta, which has one of the best versions of Gaziantep meats, and try local fresh cheese types, baklava and a creamy flaky pastry at Orkide Patisserie, a famous confectionery. Also, visit the Zeugma Mosaic Museum and "Bakırcılar Çarşısı" (Coppersmith Bazaar), where craftsmen still produce traditional items and gifts.
Ring in 2017 in the mountains


The eastern Erzurum province that has made a name for itself with winter tourism will host domestic and foreign tourists for the New Year's celebrations at Palandöken Ski Center, which has some of the world's best known ski tracks.
There is a rich entertainment program in Erzurum this year for tourists at the Palandöken and Konaklı ski centers.
The Palandöken Ski Center, where firework performances will be held, will offer an unforgettable New Year's Eve to tourists, with many singers performing at the mountain's hotels. Tourists can treat themselves with Erzurum's local foods like "cağ kebabı," which is a horizontally stacked marinated rotating lamb kebab type of dish, as well as "kadayıf" and "kesme çorbası," a traditional soup.
Thanks to its location and characteristics, the ski center offers a unique experience in skiing with its quality of snow and 24 special tracks, and a distinct holiday experience with luxury hotels.
Uludağ is among the best locations for those who want to welcome the new year in the snow. Bringing together ski-lovers from Turkey and abroad, this popular area has special events on Dec. 31. You can join the New Year's parties at the mountain's hotels or enjoy sucuk and bread.
back to top