Istanbul Food Guide: What And Where To Eat Featured

No visit to Istanbul is complete without trying street food. From lamb giblet to wet burgers, the distinctive and delicious Turkish cuisine is available for tourists on the streets at affordable prices
Every day in Istanbul is an adventure; so is sampling new dishes. With a population of more than 15 million people, Istanbul is both a concrete jungle and a mesmerizing haven where every corner offers something new at the same time. Those who visit the town with no pre-planning and research probably see the city as a jungle with all the crowds and walking miles to find food, souvenirs and scenes that are special to Istanbul.
Among the most important things you should discover in Istanbul is the food. Pretty much each district in Istanbul is famous for its own distinctive tastes. From the western edge of the city to the east, here you can find the mouth-watering tastes that put various Istanbul districts on the map.
Dried white beans in Süleymanİye
Süleymaniye in Istanbul's Fatih district is where you can taste mouth-watering dried white beans from the eastern province of Erzincan along with Turkish style rice. In each hour of the day, the Erzincanlı Ali Baba's dried bean restaurant, situated right across from Süleymaniye Mosque, is filled with both locals and foreign tourists who would like to enjoy this incredible taste. The restaurant has been serving dried beans and Turkish rice since 1938, and now the fourth generation runs the restaurant. Along with the dried beans and rice, pickles, salad and desserts are served; and believe me, only one portion is enough to get full. The prices are also not so high. A portion is around TL 30 ($10.69) for one person.
Fish sandwiches in Emİnönü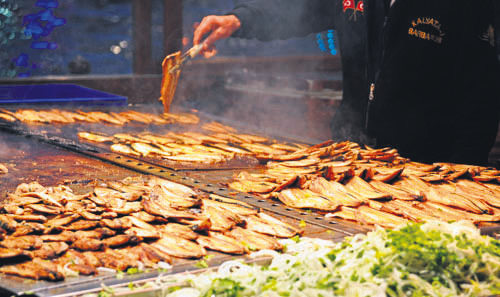 Fish sandwiches
For centuries, Istanbul's fishermen have been catching fish over the Golden Horn to sell. In the last 50 years, a tradition arose that sees freshly caught fish from the Marmara Sea cooked and sold on fishing boats. Eating a fish sandwich is a must if you visit Istanbul's historical peninsula, which includes Eminönü. While walking around Eminönü, you hear fishermen shouting "Fish in Bread! Fish in Bread!" It is not a cozy place to sit for long hours; it is either for takeaway or grabbing a quick bite. The flavor of the fresh fish along with a traditional Turkish drink, shalgam, is an indispensable part of any Istanbul visit

Wet burgers in Taksim Square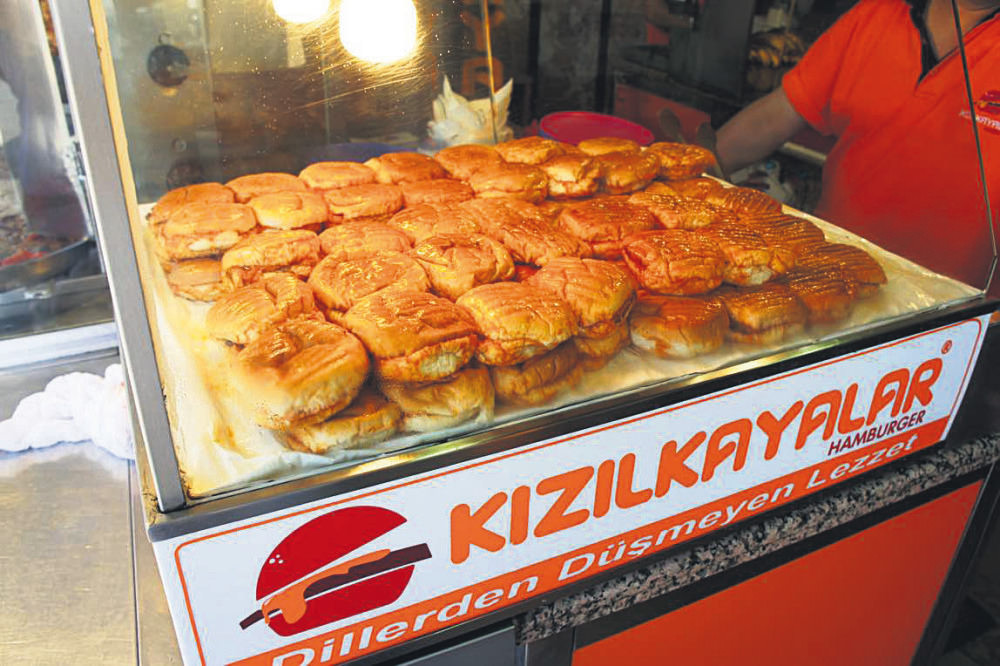 Kızılkayalar
Forget all the burgers you've seen in the past since you are about to meet a Turkish-style Wet Burger (sloppy joe), which is more than delicious. In Taksim Square at the beginning of İstiklal Avenue, you will see dozens of small takeaway shops selling wet burgers. My favorite among them is Kızılkayalar. Eating a wet burger while walking down İstiklal Avenue is basically a duty that should be completed by all tourists visiting Istanbul. In general, the first question centers on how you are supposed to eat this steamy, hot, tomato-filled sandwich, but when you eat one, you understand that you can eat at least four wet burgers, one after the other. What makes the burger wet is the tomato sauce and the steam boxes they are stored in. No visit to Taksim is complete if you do not try one.

Baked potatoes in Ortaköy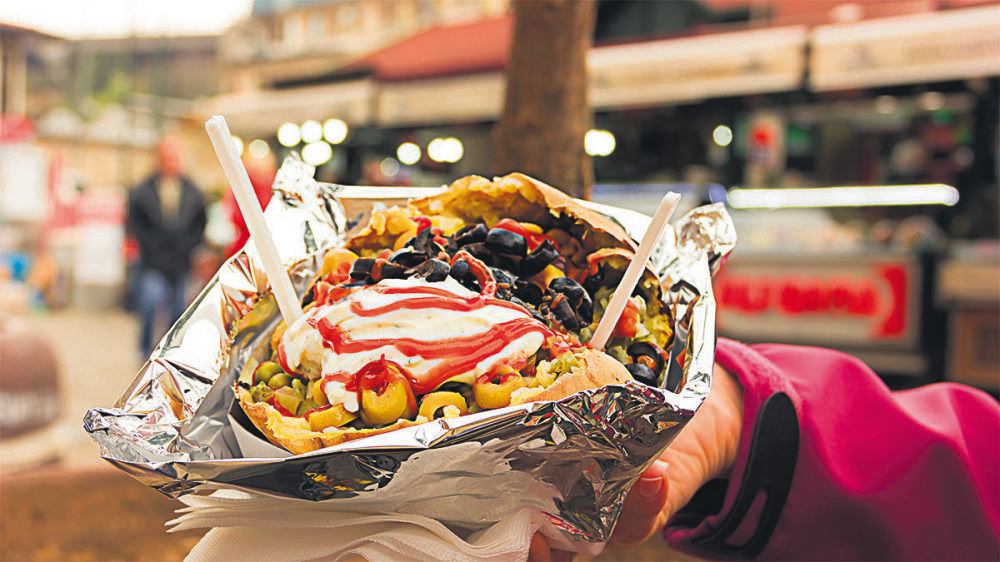 Kumpir
Now, it is time to talk about one of the most famous street foods in Istanbul: The Baked potato, known as "kumpir" in Turkish. Taken out of the oven, a huge baked potato is cut in half and filled with butter and cheese to make the base. The seller then asks what you want to fill it with from a mind boggling range of ingredients in front of you, including corn, pickled red cabbage, pickles, Russian salad, a yogurt, jalapenos, olives, and many others. After your concoction is completed, enjoy it next to the water overlooking the Bosporus Bridge.

Yogurt in Kanlıca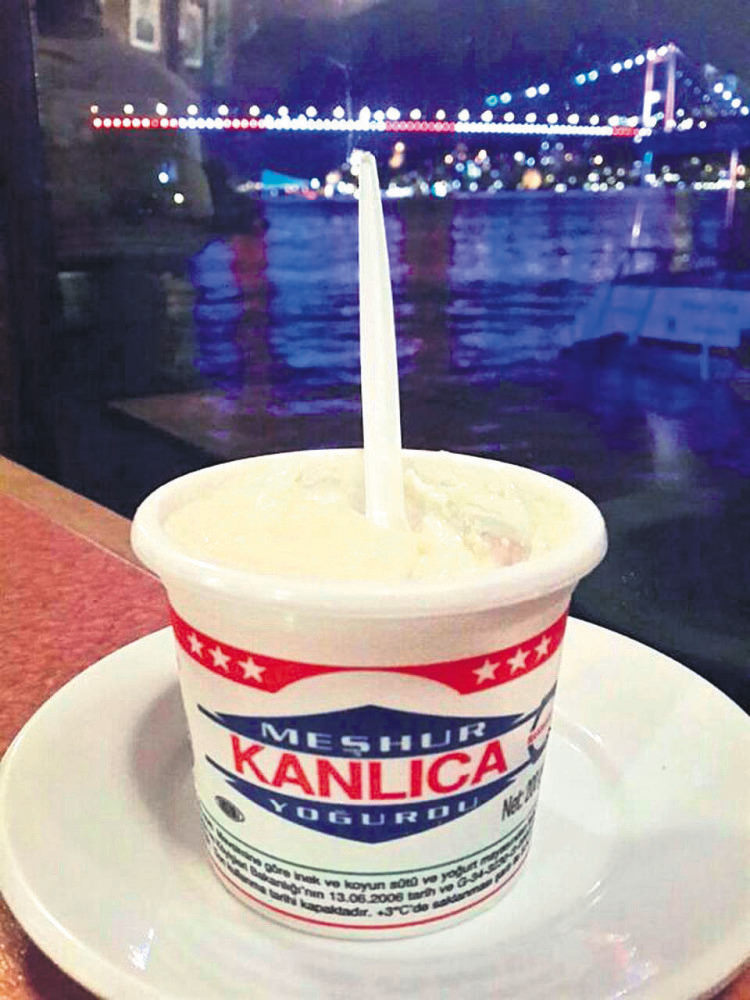 Kanlıca yogurt
One of the most widely consumed foods in Turkey, yogurt is one of the main ingredients in nearly all dishes in Turkish cuisine. Istanbul's Kanlıca neighborhood has been famous for its creamy and tasty yogurt since 1893. Kanlıca yogurt includes no additives and is good for the digestive system. You can top your yogurt with honey, powdered sugar, jam or you can try plain Kanlıca yoghurt. Kanlıca is also a nice and cozy atmosphere to sit and watch the Bosporus view.

Sweetbread in Sütlüce

The neighborhood of Sütlüce in Istanbul's Haliç region is where you can eat the freshest sweetbread – called "Uykuluk" in Turkish. Since the area was once home to slaughterhouses, the freshest meats and giblets in Istanbul are found here. Today, the location is no longer functioning as a home for slaughterhouses, but it is still where you can taste sweetbread. Since it contains a lot of oil, it is not advisable to eat sweetbread often. If you are a meat lover, you will love this succulent treat.

Breakfast in Beşiktaş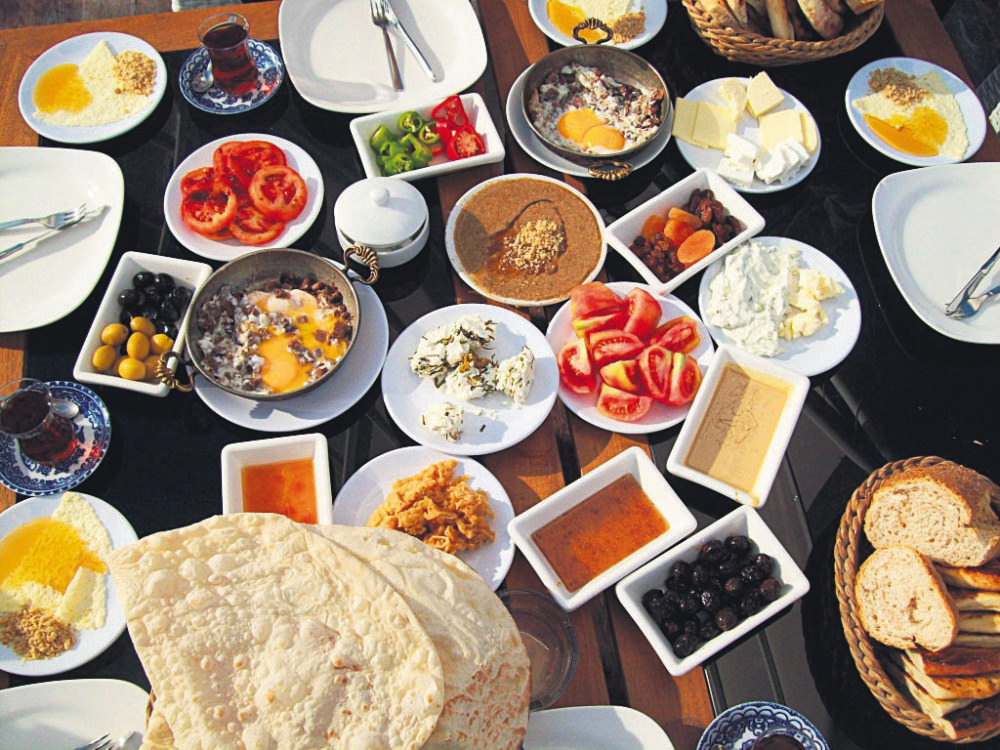 Breakfast
In Beşiktaş, a large, easily-accessible district on Istanbul's European side, there is an inexpensive, local breakfast haven tucked away in Beşiktaş's narrow alleyways conveniently known as Breakfast Street. On this street, there are nearly 20 breakfast cafes and it continues to grow thanks to the huge demand and affordable prices. When the time for a weekend breakfast arrives, Beşiktaş is among the top places that come to mind. With long tables and many dishes that include a different array of cheeses, olives, omelets, menemen (scrambled eggs cooked with tomatoes, green pepper and spices), honey with heavenly kaymak (clotted cream), homemade jams, fresh cucumber and tomatoes as well as many other mouth-watering foods, breakfast is not only meant to please your stomach in Turkish culture, it is also the best time of the day to engage in long conversations over freshly-brewed tea.

Meatballs in Sultanahmet

Meatballs (köfte in Turkish) are among the most preferred meat by both Turkish nationals and tourists visiting Turkey. The best meatballs in Istanbul are found in Sultanahmet Square, located on the historical peninsula. As a great lunchtime venue, Sultanahmet Köftecisi is where you can have an inexpensive but tasty lunch. Do not expect long menus including different arrays of meatballs; the restaurant's beauty is in its simplicity. You can either take food away or eat in, and you can have the meatballs either as a plated portion or as a sandwich. My favorite in here is the meatball sandwich topped with a hot and spicy sauce and some salad. It's a great taste of Istanbul at an affordable price.
Frozen, tasty and refreshing: Time for Istanbul ice cream
Ice cream time in Istanbul has arrived once again, as many lovable flavors can be found on street corners. From lavender ice cream to sorbets, here are the best ice cream shops in Istanbul.
Dondurmacci in Caddebostan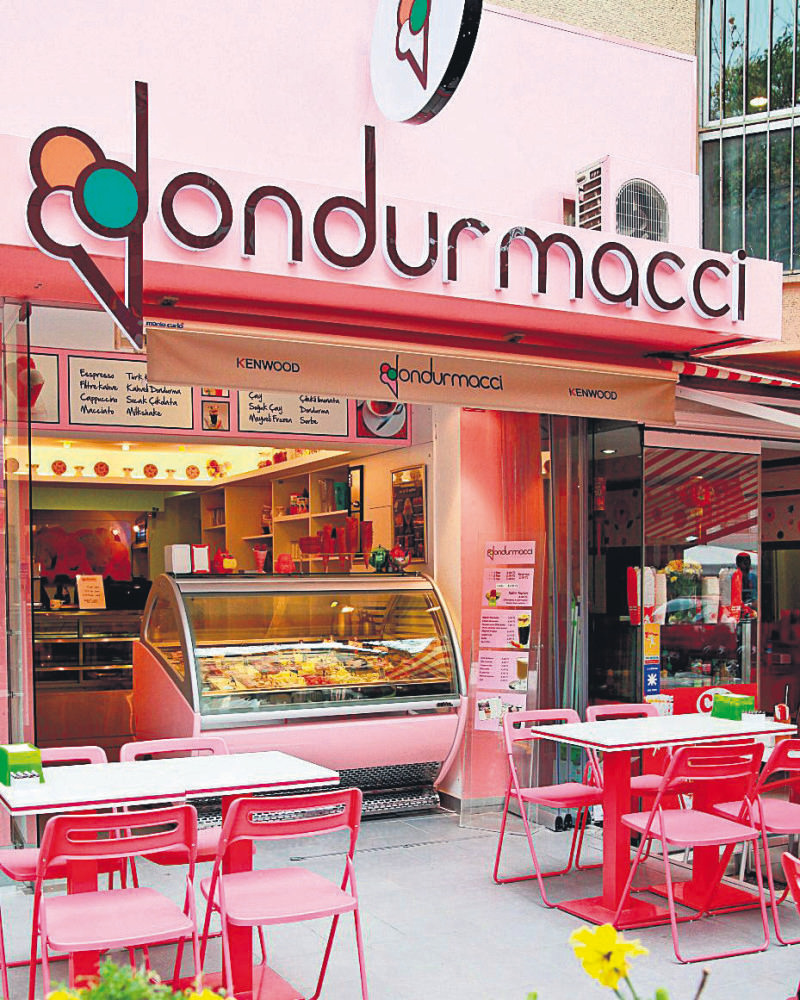 Dondurmacci
Dondurmacci, located on the Asian side, is among the best ice creameries in town with a wide array of ice creams, including lavender, lemon rose and ıtır (geranium in Turkish). This ice creamery is so famous that locals and foreign tourists queue to taste the deliciousness. It even produces ice cream from Acadia trees. The wide range of tastes is one of the most outstanding features, making it an indispensable stop for those looking for refreshment. The milk used by Dondurmacci is from a farm outside the city, as what makes the ice cream here is milk sourced from buffalos. Opened in 2010, the place is growing in popularity by the day, as it has opened another branch on the European side.
Foursquare rating: 8.1 / 10
Yaşar Usta Ice Cream in Bostancı

In the fancy Anatolian district of Bostancı, Yaşar Usta Sorbet & Ice Cream is iconic for sorbets and ice cream. Having thousands of fans, Yaşar Usta has such delicious ice cream that people from the European side come to taste their menu. But it is the sorbets that make it so popular. Sorbets are produced from seasonal fruits, and you can choose from a mind-boggling range of sorbets.
Foursquare rating: 6.8 / 10 (but look in comments: It deserves a higher rating)
Gül Dondurma in Kadıköy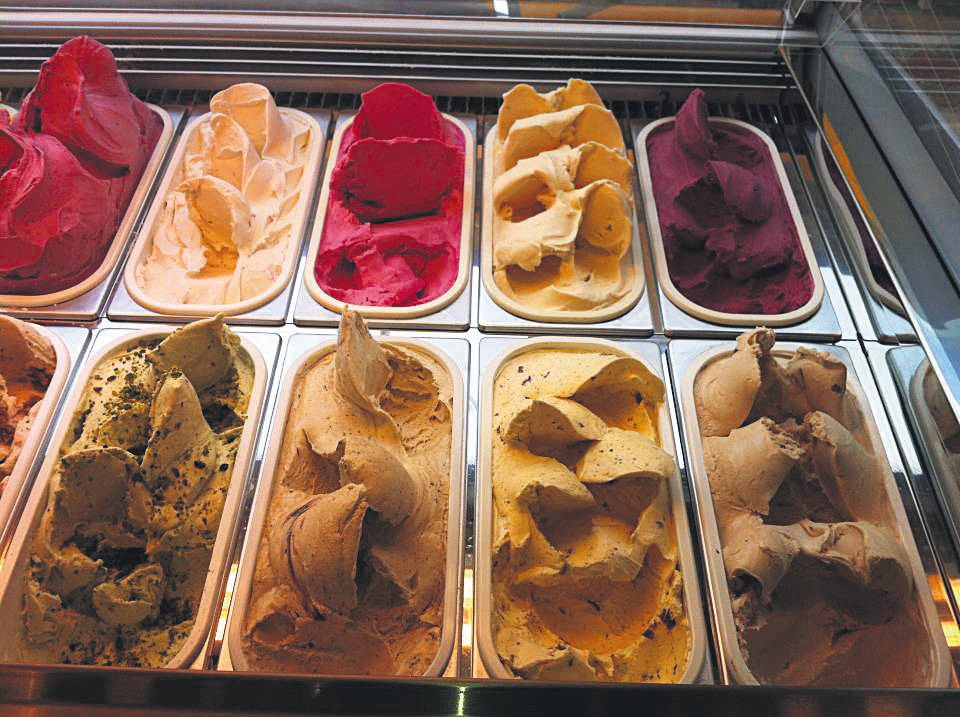 Gül Dondurma
Gül Dondurma in the popular Kadıköy district is one of the most outstanding places to taste mouth-watering ice cream with flavors such as santamaria, nutella and melon. Gül Dondurma produces some of the best ice cream in town. With a special promotion, if you visit with three friends, you get one ice cream free. Among the preferred flavors are santamaria and nutella. Foursquare rating: 9.2 / 10

Follow our travel reporter's Instagram account, @travelwithsena, to get tips for traveling in Turkey
back to top